Watch conversations with over 100 Course enthusiasts – over 200 hours of excellent content and more – here! The "virtual conference" took place last month, but since the entire conference was recorded, you can watch ALL the video replays here any time!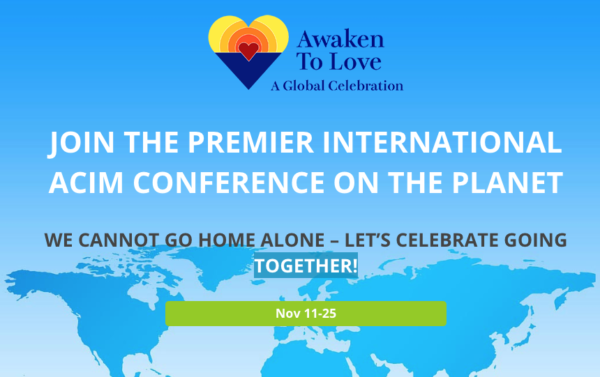 I was one of over 100 that shared in recorded video conversations at the Awaken To Love Global ACIM Conference which took place Nov. 11-25, 2018. I had great fun sharing over an hour conversing with conference organizer, Armin Rott recently where we talked about numerous helpful ways to apply ACIM in our lives. I'm now (after the conference) enjoying listening (and re-listening) to all of the recordings, both live videos pre-recorded conversations. The conference organizers made a particularly generous and affordable offer to everyone to watch and hear the entire conference!
Enjoy (as I am) listening to what over a hundred other Course students/teachers shared at the Awaken To Love (ATL) Conference … all truly helpful!
The list of ACIM speakers includes these speakers in the noted languages.
ENGLISH (EN):
Gary Renard and Cindy Lora-Renard, Judy Skutch Whitson, Tamara Morgan, Dr. Bob Rosenthal, Marianne Williamson, Carol Howe, Jon Mundy, Regina Dawn Akers, Diederik Wolsak, Lisa Natoli, Efrat Sar Shalom, Pathways of Light, James Twyman, Miranda MacPherson, Yasuko Kasaki, Jennifer Hadley, Manuela Tornow (EN), Jerry Jampolsky and Diane Cirincione, Carolina Corada, Amy Torres, Andreas Pröhl (EN), Pierre Pradervand, Paul Ferrini, Rev Tony Ponticello, Earl Purdy, Kirsten Buxton, Lee Coit, Luis Falcao, Carrie Triffet, Robert Perry, James Kelly, Nick Davis, John Mark and Cindy Stroud, Lori LaValley, Tom Whitmore, Dan Strodl, Maria Felipe, Karen Kenney, Chris Cade, Coreen Walson, Devavan, Sherri Rothenberger, José Lorenzo Rodriguez, Nicole Gangloff, Arkady Knyazkov, Beverly Hutchinson McNeff, Michael Dawson, Corinne Zupko, Craig Villarrubia, Chris Pelham, Bill Free, Kiron J Gardner, Bruce Rawles, Oleg Vavilov, Juliana Kurokawa, Dr. Willem Glaudemans, Ishwari van Teylingen, Rogier Fentener van Vlissingen, Ted Nottingham, Mari Perron, Andrew Sartory, Nouk Sanchez, Zach Bulls, Anna Lois (YESolution), Rev Reja Joy, Christina Strutt, Michael Mark, Lee Flynn, Cátia Vasoncelos, Kornilia Nikoleri, Elisabeth Hughes
SPANISH (ES):
Carolina Corada, Maria Felipe, José Lorenzo Rodriguez, Susana Ceballos García, Jorge Pellicer, Lisbeth Adrianza, Patricia Besada, Jorge Lomar, Alejandra Padrón, Victoria Soto, Patricia Sandoval, Jorge Isaac Mares, Rocío Palacios, Xavi Demelo, José Luis Molina, Pilar Milara, María Alcira Rincón, Mich Gaymard, Reyes Ollero, Núria Guinart, María Ibars
GERMAN (DE):
Marianne Williamson, Andreas Pröhl, Manuela Tornow, Dev Avan, Barbara Fromm, Nicole Gangloff, Armin Rott, Walter Brigola, Andrea Hanheide, Katje Bode, Gottfried Sumser, Amira Trümner, Michaela & Berndt (YESolution), Gerd Bodhi Ziegler
PORTUGUESE (P):
Juliana Kurokawa, Sirilei S Gambin, Inge Doris Gaviraghi, Maria Amélia Rodas de Carvalho, Carlos Alberto Dosualdo, Gustavo Fernández, Ana Fernandez, Cátia Vasconcelos
New ACIM.org website!
Synchronistically, the launch of the long-awaited new Foundation for Inner Peace (FIP) website ACIM.org took place during the middle of the 2-week virtual conference, which featured several recordings with Foundation for Inner Peace Founder (Judy Skutch Whitson) and co-Presidents (Tamara Morgan and Dr. Bob Rosenthal). Check out the new FAQ page; just one example of the new and growing content on this site!
I feel profoundly grateful to have been able to contribute to both the new FIP website and the ATL conference.
The post Awaken To Love – entire virtual ACIM conference: now online! appeared first on ACIM blog.
from ACIM blog