If you're like me, you're enthused and eager to read Gary Renard's fourth, latest, and long-awaited book:
The Lifetimes When Jesus and Buddha Knew Each Other: A History of Mighty Companions … which is available today (November 14, 2017) in Kindle and hardcover! I have pre-ordered it and will be checking the post office daily this week.

Here's a short announcement from Gary:
"Hi friends –

I couldn't be more excited about my 4th book, The Lifetimes When Jesus and Buddha Knew Each Other: A History of Mighty Companions. And I can't believe the release day is finally here! I worked for 3 years on this, and I think Arten and Pursah have outdone themselves.

This book contains a lot of information the world doesn't even know about, and it's a subject that's never been written about. It will change, I think for the better, the way that people think about Jesus and Buddha, as well as A Course in Miracles. But the book is for the entire New Age community, not just Course people. Please share this message with everyone you know.

If you'd like to write a review of the book at Amazon, I've found these reviews can be helpful to new students who are looking for direction in their study of A Course in Miracles. New students don't understand non-duality, or even know what it is. But by the time people finish this book, they'll be no doubt in their minds about what Jesus and Buddha, as well as the Course, are really all about.

The Table of Contents for the new book is below, and here's the link to order it. Starting today, the book will be shipped immediately.

Love and thanks to all, Gary
---
TABLE OF CONTENTS
Introduction
Author's Note – A Course in Miracles: What It Teaches, and Its Relevance to Jesus and Buddha
PART ONE: B.C.
1. The Ladder to Enlightenment
2. From Shintoism to Lao-Tzu: Early Peak Experiences
3. A Time as Hindus
4. Plato and Friends
5. Siddhartha and His Son
PART TWO: A.D.
6. The Final Times of J and Buddha
7. Gnosticism
8. J Channeled, 1965-1977: This Time the Truth Will Not Be Buried
9. The Importance of the Mind
10. The Ladder Disappears
Chart of the Lifetimes Examined In This Book
---
The chart at the end of the book was compiled by another dear friend, "Giddyup Mikey" Mike Lemieux, author of "Dude, Where's My Jesus Fish?"
---
In case you missed it, here is a recent video conversation I had with Gary and Cindy about both of their new books. Cindy's book has been available for a few months already.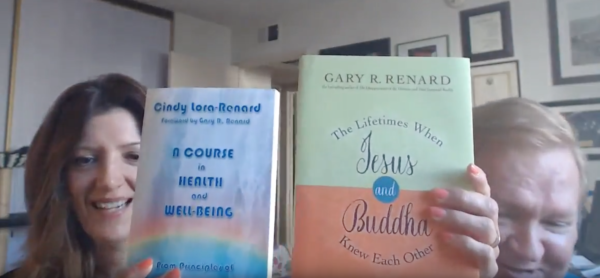 from ACIM blog